UPDATE: We had such a fun time last night! Thank you to all who brought your questions to the Q&A in the Virtual Labs, and thanks to Sheena and Eliza for their very interesting A's. Today, Sheena is wearing the free-form, radical, catatonic kitten from outer space T-shirt she made last night, under Megan's tutelage. More photos from last night are posted on our Flickr stream.
[The following was originally posted on December 17, 2009.]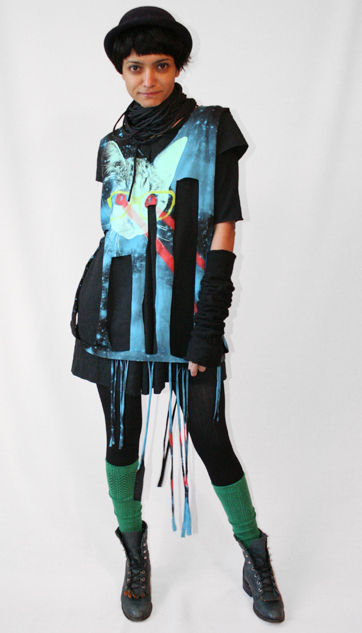 Why stay in and craft all by your lonesome? Come join us for a used clothing reinvention and swap with The Uniform Project and Megan Nicolay of Generation T — whether you're in Brooklyn or anywhere in the world. Stop by for our weekly Craft Night in our online multi-user chat room, the Virtual Labs, for a live online demo at 5 p.m. ET, or in person at the Etsy Labs in Brooklyn anytime between 4-8 p.m. at 55 Washington Street, Suite 512 in Brooklyn, New York. (Click here to see what time 5 p.m. ET is in your hometown.) Craft Night is a time to make things, sharpen your craft skills, and connect with fellow crafters.
Have you ever done a 365 d
ay challenge? What's your New Year's resolution? How about starting with giving old clothes new lives! This week, on Monday, December 21, visit the Etsy Labs and the Virtual Labs for a used clothing swap and clothing reinvention project.
The Uniform Project will talk about the 365 day challenge they're pursuing to raise money and awareness about disadvantaged school children. Sheena (see at left in the stylish bob) is wearing one little black dress for an entire year and documenting her inventive outfit customization methods with handmade and vintage accessories. Eliza (pictured on the left) designed the frock, which has turned out to be infinitely adaptable. Read our full interview with the Uniform Project here.
This Monday we'll roll up the sleeves of our used t-shirts and make a project too. Megan Nicolay (pictured below), author of Generation T, will be at Craft Night to demo a no-sew project for turning your old t-shirts into something new and fresh. We're inviting everyone who comes to bring some used clothing you'd like to swap with other attendees, cut up and reinvent with Megan, or if you don't have any clothes that fit the bill, Threadless will be sending us a box of misprinted t-shirts ready for reinvention.
If you are attending Craft Night virtually this week and would like to reconstruct a t-shirt with us along with us, be sure to bring along a t-shirt and a pair of scissors.
Here's a sampling of Megan's no-sew projects:
Upcoming Events at the Etsy Labs in Brooklyn:
12/28/09 through 1/18/10: Craft Night Hiatus (No Craft Nights at the Etsy Labs during this time.)
1/25: Stenciling with Ed Roth of
Stencil 101
2/1: Matchbox Valentines with Rachel Johnson of
Swap-bot
2/8: Heatpress printing with Dari of
papismami