When the cold, dry winter months hit, we can all use a little pampering—yes, even those burly bearded types who would genuinely rather spend an hour shoveling snow than soaking in a soothing Himalayan salt bath. This holiday season, you can take matters into your own hands and whip up a multi-purpose hydrating face oil that will help your brother, best friend, or significant other look and feel his best in spite of the harsh weather conditions. And thanks to their easy-to-customize fragrance options, these handsome little moisture bombs make the perfect affordable gift for him.
Our DIY calls for a blend of bay rum and clove oils for a classic masculine scent profile, but it's easy to create a signature scent of your own by mixing complementary essential oils and fragrances. (Bonus: You can use the same instructions to make a luxurious hair conditioning oil—simply change up the scent combinations to suit the intended recipient.)
Read on to learn how to create custom-scented oils for anyone on your last-minute shopping list.
At a glance
Time: 1 hour
Difficulty: Beginner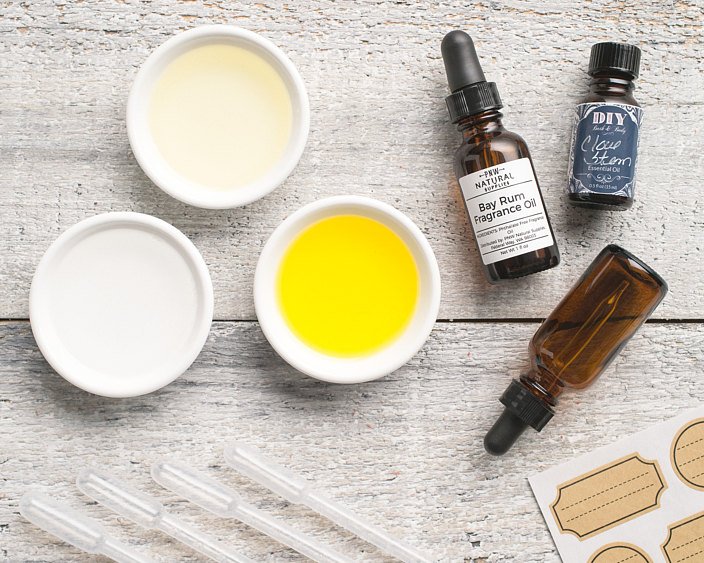 You will need
Plastic pipettes (if your oil and fragrance bottles do not come with easy-pour spouts)
Pen
Stickers (to label the finished product)
Step 1: Fill dropper bottle with "carrier" oils
Add equal parts argan oil, fractionated coconut oil, and apricot kernel oil (what are known as the "carrier" oils) to your 1-oz. glass dropper bottle, leaving a little room at the top for the essential oils. If your oil bottles do not have easy-pour spouts, plastic pipettes make it easy to measure and transfer oils into the glass dropper bottle.
Step 2: Customize the scent
Now it's time to create a custom scent. We used clove bud essential oil (3-5 drops) and bay rum fragrance oil (1-3 drops) to make ours, but you can use any combination that suits your taste. Add scents just a few drops at a time until you reach a fragrance combination you like.
Pro tip: Essential oil scents tend to develop over time, so it's helpful to test each combination on your skin by rubbing a few drops of each blended scent between your palms first.
Step 3: Secure cap and shake to combine
Once you've created your ideal scent, cap the dropper bottle and give it a gentle shake to mix.
Step 4: Label and enjoy
Don't forget to add a custom label to your finished oil and include a note with the following instructions: To apply beard oil, shake the bottle, warm a few drops of oil between palms, and apply to clean facial hair.
No time to DIY? Order one of these ready-to-ship picks: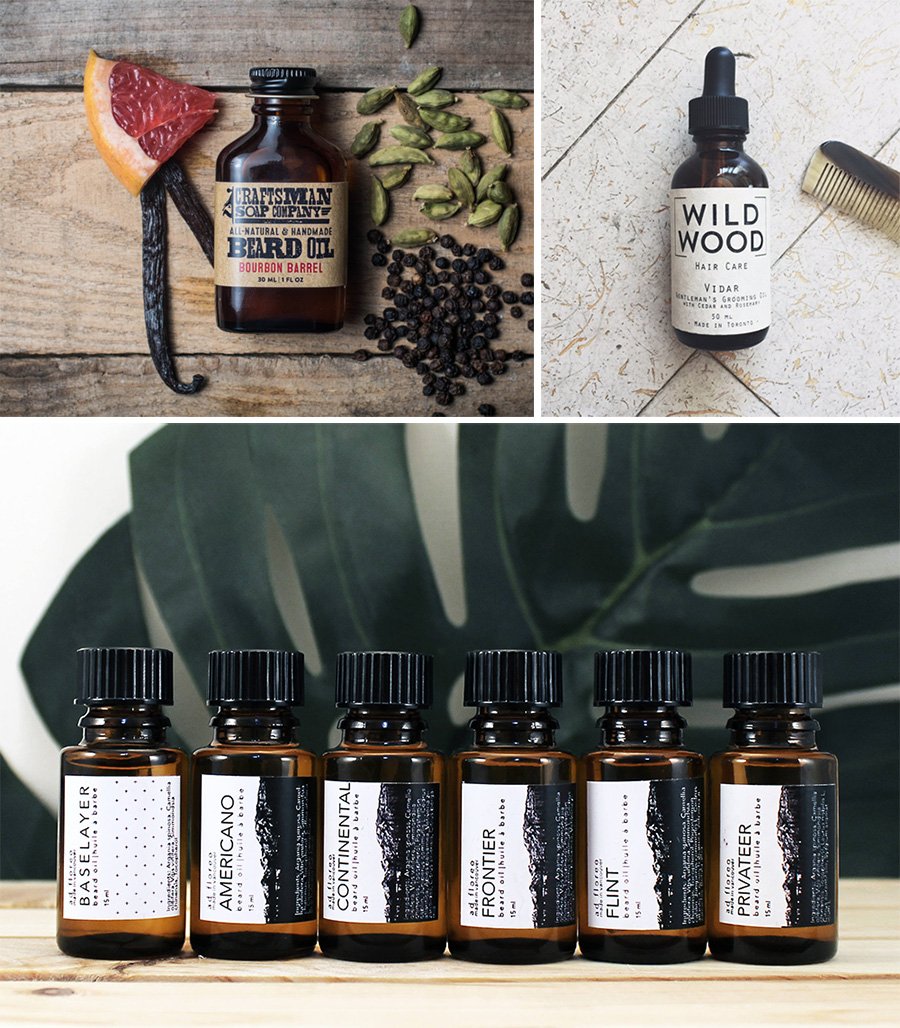 Project by Julie O'Boyle, Aleksa Brown, and Clare McGibbon. Photographs courtesy of Erik Valind.