"When I first started learning tarot, I felt very afraid and excluded from the tarot community—like it was this thing you had to learn for so many years and do the 'right' way," says California-based artist, jewelry maker, hospice volunteer, and Spirit Speak tarot deck creator Mary Evans. "But once I started getting deeper into it, I think my background in DIY and punk culture allowed me to forge my own path. Now, when I encounter people who are just starting with tarot, it's really important to me to convey that it's about them—that they have power and control and autonomy with the cards. The cards are a vehicle for your intuition, a tool for you to get deeper in touch with what you already have."
That deeply personal outlook—both on tarot and on life—has been instrumental to Mary's ability to create the existence she has now, as a successful, self-employed artist living on her own terms in a home purchased with the earnings from her creative work. The Tennessee native, who spent time in Seattle, Austin, Oakland, and Olympia, Washington, before settling near Joshua Tree, certainly didn't have this outcome in mind back in 2014, when she created her first original tarot images for a group art show at a friend's Bay Area boutique. "When I was growing up, I was told that being an artist wasn't a career option," says Mary, who nevertheless studied printmaking in college. "I think about that a lot, and how amazing it is that this is now a possibility."
That doesn't mean entrepreneurship has always been easy. "I've only been full-time for around two years, and it's been a balancing act trying to figure out what works," Mary says. "Being a business owner has been a huge gift and a huge challenge for me. It has matured me and taught me a lot—and also it's given me freedom to continue to create. Working part-time or doing the jobs I was doing before, I just had less freedom and space to make art. Having my own business has really changed that—and changed who I am as a person."
We tagged along with Mary to see what a creative day in the desert looks like. 
6:30am Rise and shine (and go for a walk)
If the weather is nice, I'll wake up, make tea, and take my dog, Sadie, out for a walk—I live right near a large desert preserve that's really amazing. After we come back, I'll do some tidying that helps me set the mood for the day: I'll either clear and clean my altars or make some new ones, and then I'll light my spell candles and some incense, have another cup of tea, and sit down at my desk.
7:30am Charting a course
I'm a big to-do list person—I have them all over my house, for all different parts of my life. Every morning I make a list for the day and update my list for the week. I have a personal to-do of goals, a list of what needs to be restocked or mailed, and if I'm working on a new deck or another project, I have a schedule for when each part of it needs to happen. For me, it's never like, "it will come as it comes." There's always a plan. That's not something that I'd recommend for every artist—it would be completely smothering to some people—but it's how I work best.
After that, I'll spend the rest of the morning doing all my computer stuff: email, orders, wholesale orders, packaging and processing, distribution, accounting and financing.
10:30am Cafe culture
I like to do a lot of my illustration outside of the house, at our local café, Frontier Café. I like the stimulation of being at a café and having friends occasionally come in to say hi. It's also really valuable for me to see other people working on things. I have a few friends that will sometimes come over to my table and we'll just sit and not talk and work, which is really nice.
1pm Lunch break
If I'm not already out, I like to stay home to eat lunch. I find that if I change locations in the middle of the day, it can be distracting and I might get sidetracked. But during the summer I'll often spend work days at the café, since I have to be inside so much to avoid the blood-boiling heat. Having that change of scenery is nice.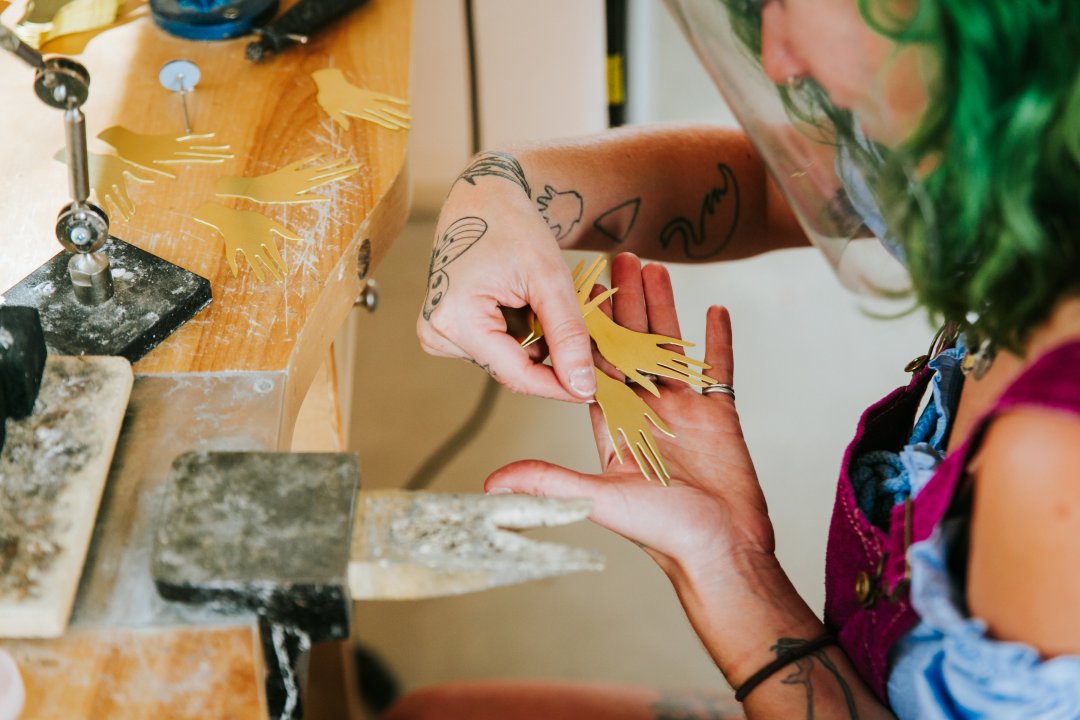 2:30pm Making time
I've thought about getting a separate studio space away from my house, but I really like having a home studio. I like to be able to take little breaks to put on a face mask or get into my pajamas, or to hang out with Sadie and Priscilla, my big fluffy cat. I have a jeweler's bench that I work from, and an illustration desk that I got at the flea market that I really only use for computer work and orders and writing. Most of my artwork I make on the floor.
In addition to making tarot and oracle decks and jewelry, I also make zines and art. I really like making children's books, even though I don't really know any children. Adults seem to really enjoy my children's books, though—I think it's because it's an opportunity for adults to feel childlike. I just finished one called "Little Witch," about a little witch who lives all alone in the desert with her dog and loves living in solitude. Then she accidentally breaks a spell that brings everything to life. At first she likes it, but then she gets overwhelmed and has to find a way to tolerate and work with those other energies.
4pm Copy talk
My local print shop, Oasis, is a big part of my life. They make my zines for me—they're just really amazing people who have a lot of patience and help with all my projects. On any given day, I might stop by Oasis on my way to the post office to ship some orders, or after dropping off some merchandise at a local shop that stocks my decks.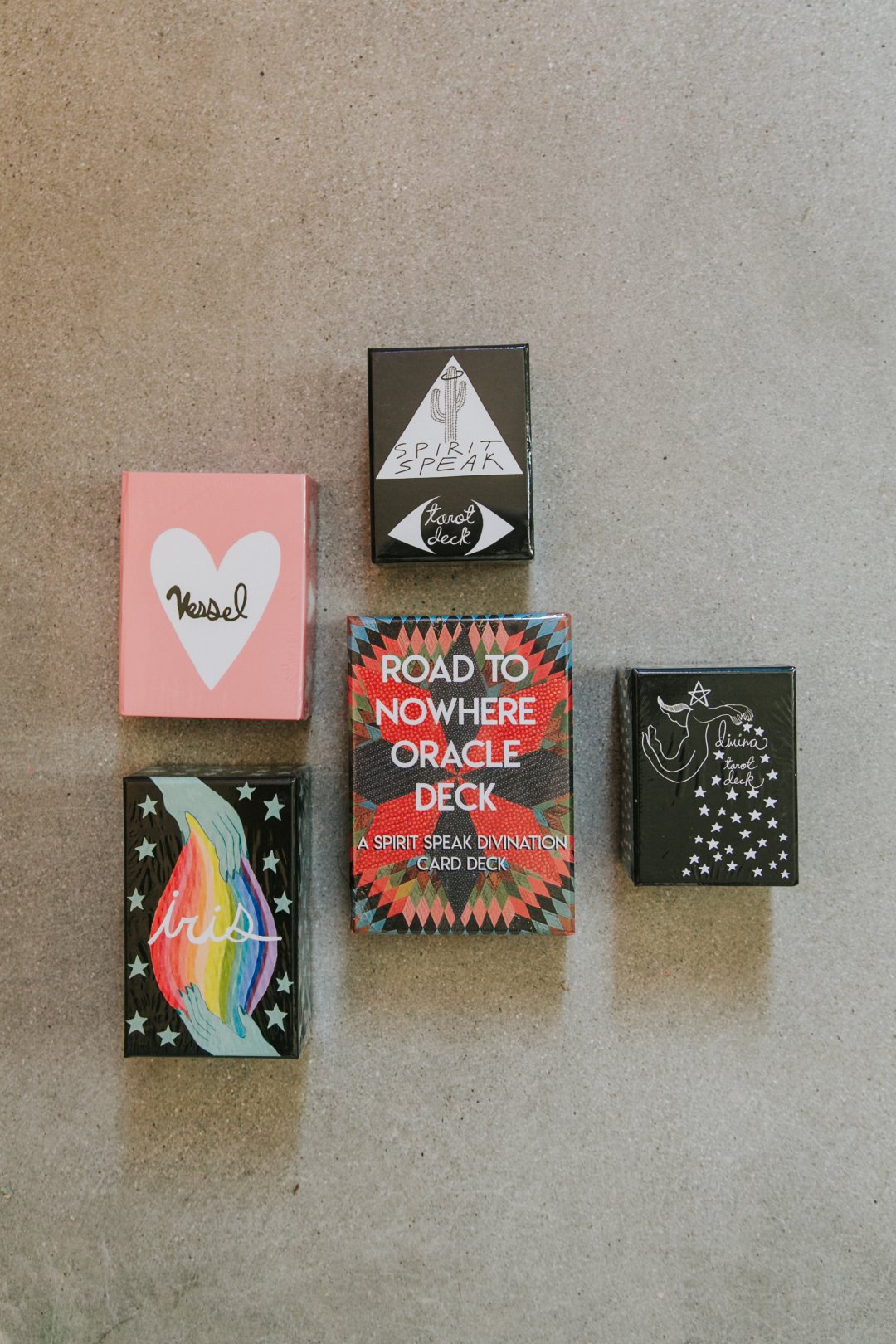 5pm Home stretch
When I first went full time with Spirit Speak, I worked like a crazy person. I come from a very hardworking family, so that was pretty natural to me, but I also felt like I had something to prove: I'm an artist, but see how hard I work? I realized I was running myself ragged for no apparent reason, and part of the joy of having your own business is that you can take the time and the breaks to take care of yourself. You get the power to make that space.
Now I do a much better job of that. I still work very hard—just Monday through Friday, from 9 to 5. I'm a big self-care person, so I have self-care routines that are part of my day, and I also secretly work on music sometimes—but I don't ever let anyone else hear it. It's a just-for-me thing at this time. I actually make a lot of art that is just for me, that's not part of my business. I recently made a series of paintings and a series of collages during my special alone time.
8pm Community hour
You wouldn't think there's much of a social scene out in the middle of the desert, but there is lots going on. The community is one of the reasons I love living here—there are a lot of talented musicians and artists and beautiful people doing wonderful things. And since it's a small town, you see all your friends when you go out. I go to a lot of music shows in the evenings, and sometimes art events too. I recently released a new collage-inspired oracle deck called The Road to Nowhere and hosted a group of about 30 people in an underground warehouse space to make collages together for the launch. It was really sweet: I got a bunch of colorful cakes, we had some collage materials, the music was very calm vibes—it was like a fun group craft night.
Photographs by Elli Lauren.