Looking at a finished piece of pottery—perfectly solid, cool to the touch, sturdy and functional in your hands—it's easy to forget all the hard work that went into bringing it to life. The hours spent mixing glazes, reclaiming ​buckets of clay scraps​, and waiting patiently (or not so patiently) for the kiln to finish firing. But for Baton Rouge-based ceramicist Osa Atoe, who took her first pottery class in a community studio in 2013, it was those less glamorous moments that drew her to the craft—and confirmed her passion for working with clay. "I got really obsessed with everything about it, even the more mundane aspects," recalls the Pottery By Osa owner. "I would go home and watch YouTube videos of people centering clay on the wheel for hours—I was totally absorbed."
For the lifelong musician, who'd spent much of the prior decade on the road touring with various punk bands, the timing was right. "It was a fade-in, fade-out kind of situation where I started taking pottery classes right when one of my last bands was breaking up," explains Osa. "It gave me a new form of expression, and when that band ended, I went full-force into pottery—I instantly fell in love with it. Not that I was good at it right away, but that's how you know you love something: when you don't care and you just want to keep going."
Over the last five years Osa has done exactly that, continuing to hone her skills and develop her line of handmade, functional terra-cotta pottery. Her distinct point of view shines through in her geometric-patterned homewares, all finished in an understated palette of handmade black, white, and turquoise glazes—but she's the first to tell you her artistic journey is far from over. "In pottery terms, five years is nothing. I'm still a beginner," says Osa. "I'm looking at all the stuff I'm making as a great start, and people have been really receptive to it, but I'd like my work to continue to evolve."
We tagged along with this punk rocker-turned-potter for a typical day her Louisiana life.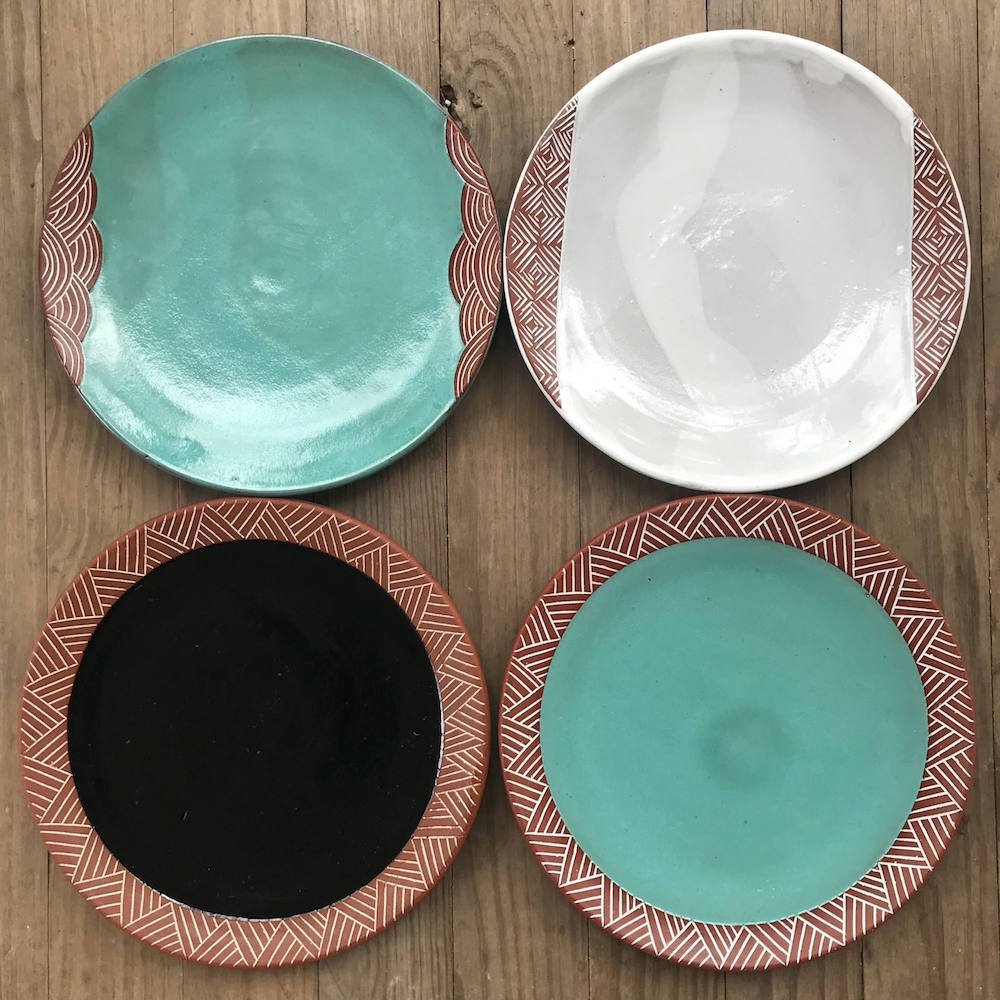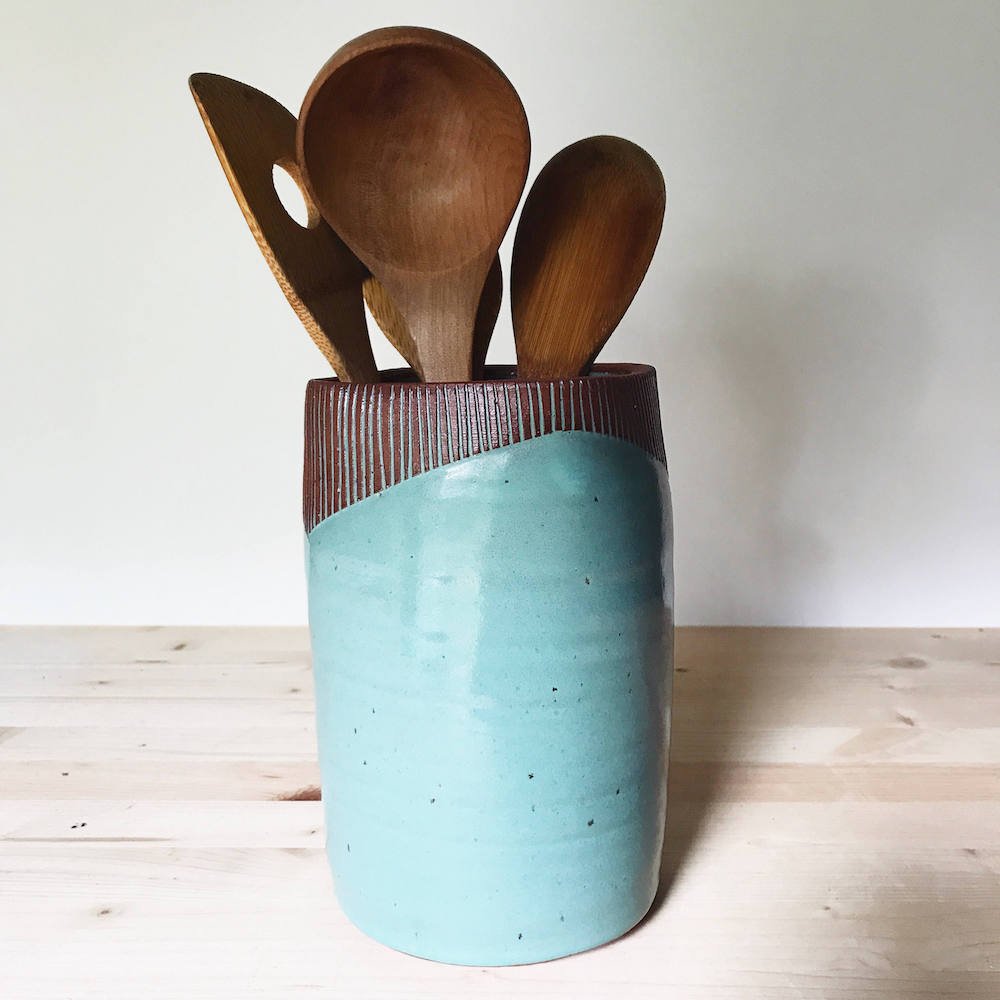 7:30am Paws in the park
My husband Joey and I moved to Baton Rouge from New Orleans a year ago, so I'm still finding new spots, but the BREC system of local parks is really amazing. There are so many trails, lakes, and live oaks everywhere. We have two dogs: Lola, a little terrier mix, and Bayou, a big blockhead pitbull mix, and we like to take them for long walks and enjoy being outside together. Joey and I even had our wedding outside, at LSU's Hilltop Arboretum here in Baton Rouge.
9:00am At the wheel
On a typical day, I start work by 8:30 or 9:00. My studio is in a garage behind our house. I have a big work table in the back and a wedging table near the front. My wheel is set up next to a smaller work table with my tools and glazes, and my kiln is in a separate shed in the backyard. When we were moving here, it all came together really magically. My landlord is a kind of renaissance, Jack-of-all-trades type and he had done ceramics in the past, so when I asked him if it was OK to rewire the space for my kiln he was totally fine with it.
When it comes to making my pieces, it usually takes me a couple of weeks from start to finish because I work in batches; I'm never just working on one piece at a time. And there's always some kind of flaw in any given batch—I ​never have 100% of my pieces come out sellable. Sometimes things can be corrected by refiring, but part of working with pottery is that you always​​ have loss. Pieces fail at every stage.
Process-wise, ​I probably love carving patterns the most. The patterns that I use refer back to the geometric designs found on pottery and other crafts from all over the world—I love that shared commonality.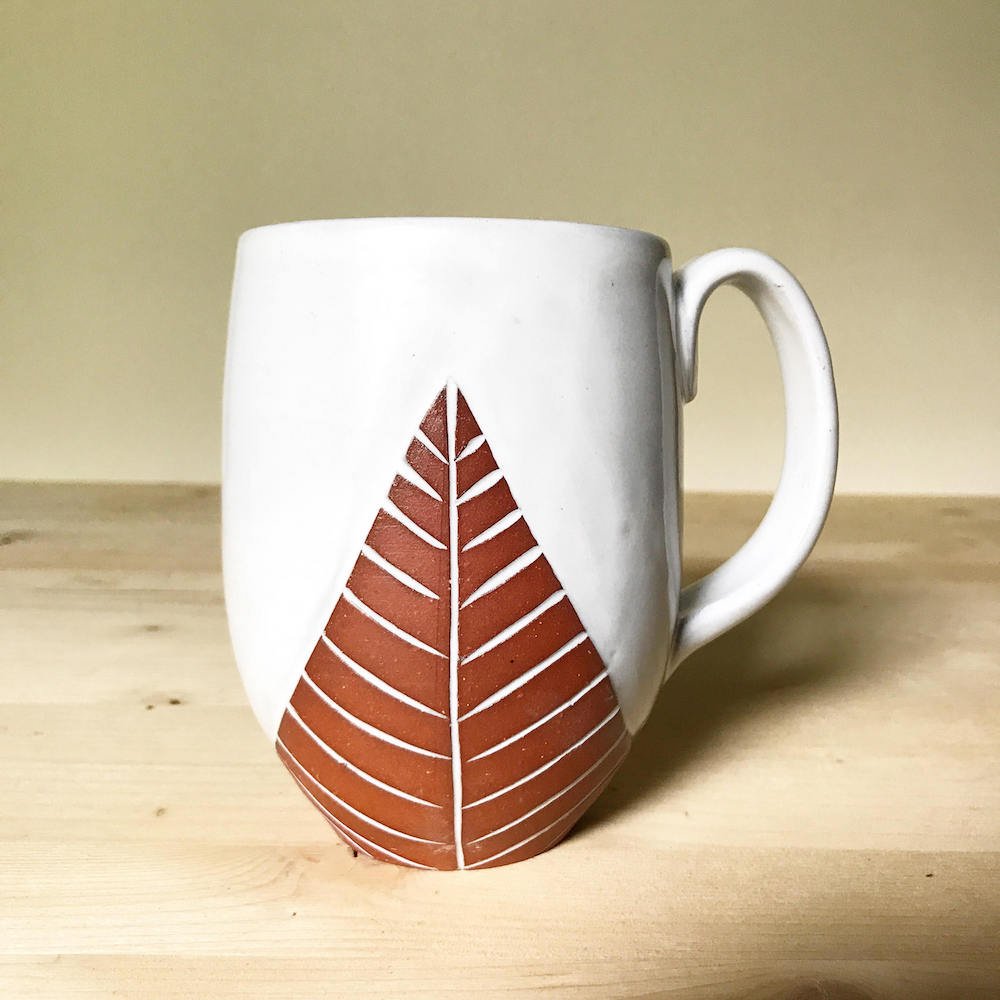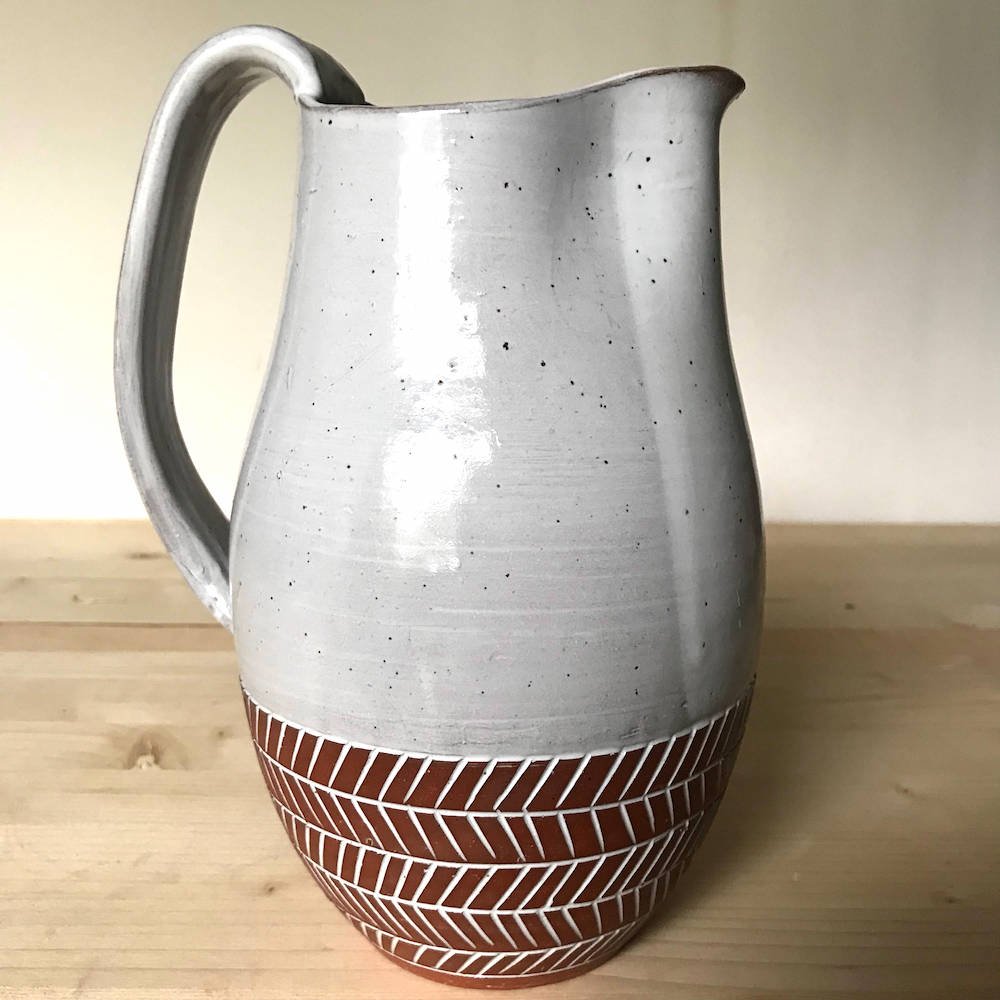 12:00pm Un petit café
I really like this coffee shop called Magpie. They have a new downtown location that opened in the last year or so. Baton Rouge is kind of small, so when things like that happen you hear about it quickly. It's super pretty inside—there's this really nice black-and-white geometric tile on the espresso bar, and great natural lighting. It's a nice spot for a day-date. I really love coffee but I have to limit the amount that I drink because caffeine makes me a little crazy. But I used to work at a coffee shop, so I acquired a taste for it.
12:30pm Back to school
I'm currently doing a year-long, post-baccalaureate ceramics program at LSU. They have the number seven ceramics program in the nation and it happens to be in my backyard, so I just felt, why not take advantage of this while I'm here? I'm taking two classes this semester: an intro to hand-building class and a graduate seminar about developing concepts. The program is perfect for people like me who don't necessarily have a fine arts background but want to get their foot in the door in case they decide to pursue an MFA down the road. I'm not sure if I want to do that—I think I want to be a maker more than I want to be in academia—but it's been really valuable in terms of exposure to new techniques and resources that I can use to help my business grow.
3:00pm Turntable time
Even though I don't play anymore, my hobby is definitely still music. I shifted my passion from making it to being a fan. My dad is a record collector—he's always looking for new music, and I'm the same way. I have a huge collection. My favorite record store here in town is called Capitol City Records and it's actually owned by my friend Raegan's dad, Dana Labat. He's really cool. He grew up in New Orleans and he used to run a new-wave club back in the '80s in this little town between Baton Rouge and New Orleans. He's been into punk and new wave his entire life, so I love to go in there and talk to him about what things were like for musicians back then.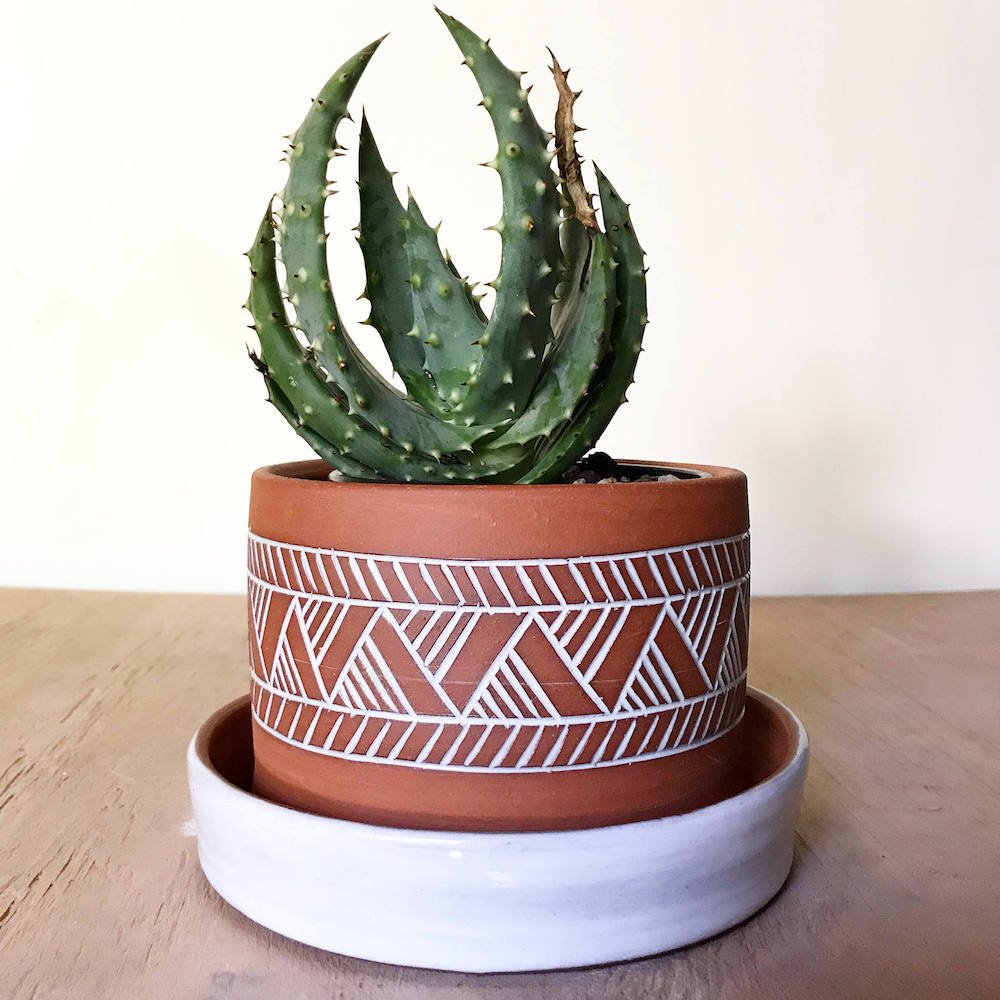 4:00pm Greenery fix
Red Onion Nursery is the most beautiful nursery in the area—their greenhouse is on a few wooded acres of property right outside of town and it's just gorgeous. I mostly love it as a consumer, but I've also teamed up with them to do a couple pop-ups at their store. I buy a lot of plants. Some are for me, but because I sell a lot of planters, it's nice to have some for displays, too. I know there's a real succulent craze going on, and I do love succulents a lot, but I'm also a big fan of tropical low-light plants. I really like elephant ear plants, and I have a bunch of ​calathea plants that look like they have patterns painted on the leaves.
5:30pm Chicken and biscuits
For food, The Chimes is a local Baton Rouge staple. It's really close to LSU's campus, and it's also right next door to the Varsity Theatre, which is a rock venue, so if you're going to a show it's easy to start out at The Chimes for a drink or some food beforehand. They have a good mix of regular bar food and Louisiana food, like po' boys, gumbo, jambalaya, and blackened catfish. Nothing that's healthy, but I really love their chicken and biscuits.
Photographs by Morgan & Owens.